We have created many Shopify websites for different business niches. www.kalamaki.ae restaurant based in Dubai, UAE, planned to use their online food booking website using Shopify. We have created an easy to use Shopify Website with Quick Add to Cart and other features required for an online food booking restaurant website. Here we will discuss about the case study done for shopify custom app development for kalamaki.
Problem
One Major requirement was to add extra price for each add-on pizza toppings.By default, Shopify supports 100 variants and in this case we had more than 180 variants for pizza toppings.
Solution
As a first step we tried to use some public apps which are available in Shopify App store. We used shopify public apps which supports variants more than 100 combination. But the second problem was not solved using this. Custom Variant Apps in Shopify doesn't support add on pricing. So we planned to create a custom shopify app from scratch.

We have created shopify custom app which supports more than 100 variant combinations. Also each variant to have extra add on pricing.
Shopify App Overview
Each Pizza was having two variants
Small
Regular
and based on this two variants people can select 22 extra toppings. Each time when a custom select a Pizza with Small or Regular sizes, we will show them the 22 available toppings for that pizza.
Customers can select upto 5 extra toppings per pizza. Each extra toppings for small size and regular size was set to AED 3 and AED 5 respectively.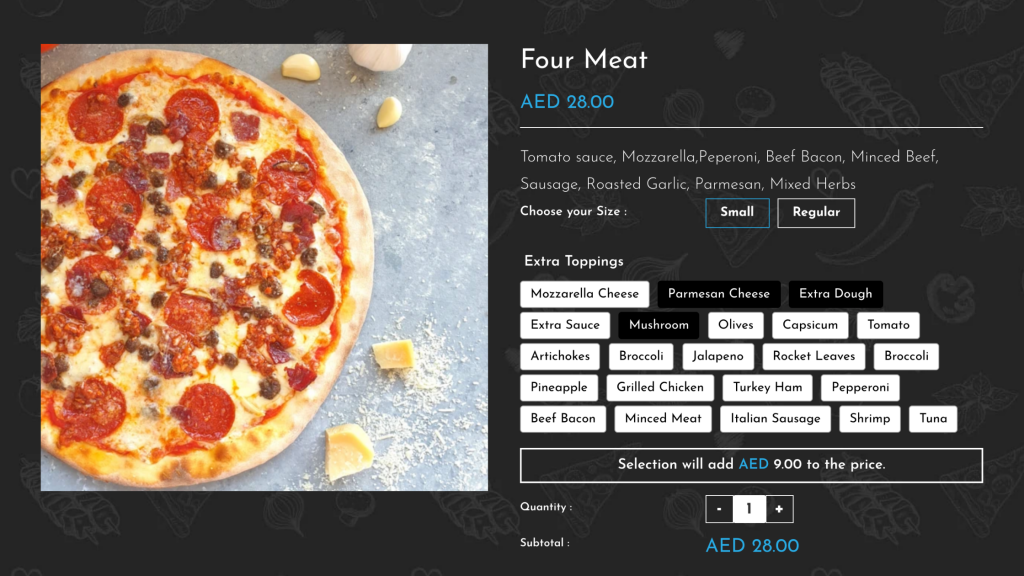 Video of Shopify Custom App
We are one of the best Shopify UAE development company. If you are looking for a Shopify Developer to do any type of customization in your Shopify Store, we are here to help you. We are happy to discuss about your problems to find a better solution.
Call or WhatsApp us at +971554943599 / +971507080116 or drop us an email.
Please follow and like us: