Appearances are often deceptive– this is right in most of the time related to humans. But when it comes to your online store's website, appearances are everything. A website's appearance and functionality can affect the rate of conversion; if it is not the best, your sales may suffer.
The theme of the website includes its overall look, feel and style. It is the representation of your brand and can affect the user's experience. Visual appeal is more significant than you think. Studies show that 94% of first impressions are design-related and a reason to mistrust the site. It also shows that 75% of customers make judgments on a company's credibility based on the website design. Credibility and trust are the most important factors for an e-commerce business.
A site with a good design means that it can offer better functionality and user experience. It will do wonders for your sales. Whether you want to start a new business online or want to take your existing business online, selecting the right theme for your online shop's website is an important step in the path towards success.
Being the best e-commerce platform, Shopify offers 100+ free and premium themes and also Shopify themes created by 3rd parties, for your e-commerce website. So selecting a perfect Shopify theme can be an overwhelming task. But don't worry!!! The best Shopify developers are here to help you.
But before we begin, here are some of the things you must need to know if you are new to the Shopify platform.
Before Selecting Your Shopify Theme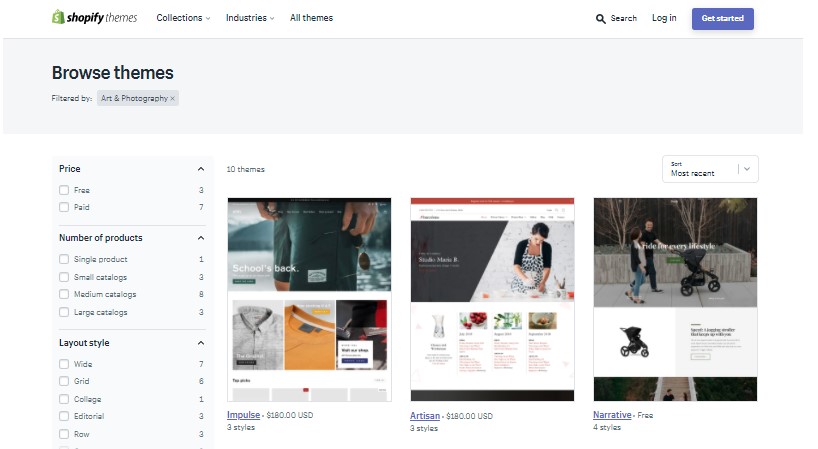 Figure Out Shopify
If you are new to Shopify and want to get a concrete idea of what you are looking for, you can check out Shopify's ready-loaded default free theme. It will give you a clear picture of functionalities, features and stylings.
Where to Shop
As the best Shopify designers, Dubai, we recommend you purchase your Shopify theme from the Official Shopify Theme Store. Shopify assesses every single theme, guaranteeing that usefulness and quality are checked and adequate before they list a theme available to be purchased in their store.
Know Your Brand
It is necessary that you have a clear idea of how to depict your brand and select colours, fonts and designs suitable to the brand.
Decide Must-Have Functions
You understand the fact that the visual appeal of your website really matters. But even after choosing an amazing theme for Shopify store, what if does not function properly??? So Shopify experts suggest that you need to select a theme that is visually appealing as well as has better functionalities.
Choosing the right theme is not an easy task so that you can stand out from the competition. You need to consider so many factors such as the user experience, nature of the product you are selling, how many types of products are you selling, brand, budget, etc.
So here are the steps for you to select the best Shopify theme!!!
Step 1: Set Your Budget
As mentioned earlier Shopify offers many free and premium themes. If you are new and want to know things better before investing more money, there are many Shopify themes free available for you to get started.
A Shopify theme free has all the basic features you require for your online store. But premium themes have more high-quality design and better functionalities which is an important factor for higher conversion rates. The cost of premium themes ranges between $140- $180. So if you have the budget to purchase a premium theme, whether to purchase one with a low cost or high cost depends upon the functionalities you require for the e-commerce store.
Step 2: Consider the Theme Functionalities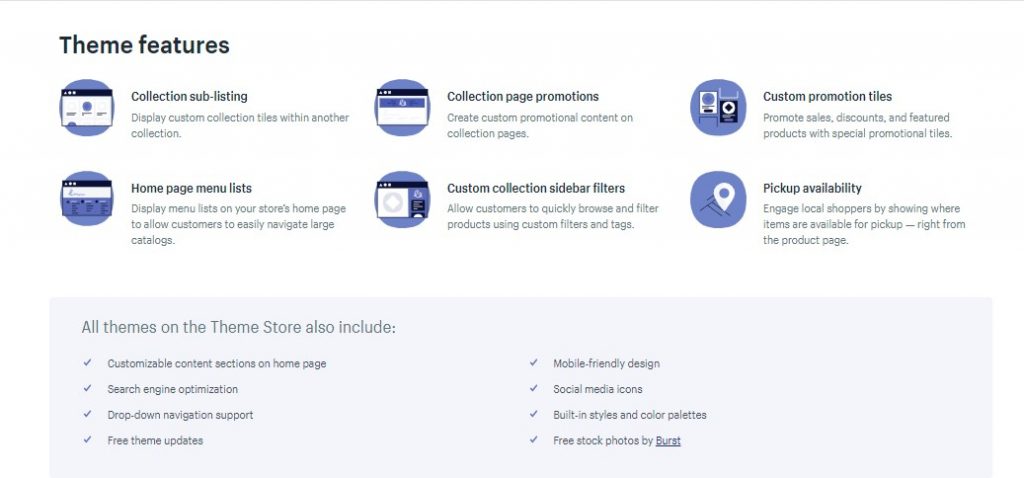 A theme's functionalities are as much an important factor as its look and feel. So once you decided your budget for themes, the next step is to pin-down the themes based on their features. Features such as Shopify responsive checkout are standard and comes with every theme. More exclusive features like Instagram feeds or Category grid can be added with the installation of a Shopify app or fix it with the help of expert Shopify developers. So you should choose a theme that has visual appeal and also better features. How would you do that? Just ask yourself these two important questions:
What type of products I am selling?
What are all the functionalities you need, is dependent on the product you sell. For example, if your's is an online cloth shop, then features such as quick product view, hovering product information, product filtering or optimized large image viewers is more likely to be better for you than an Instagram feed.
How many types of products do I have?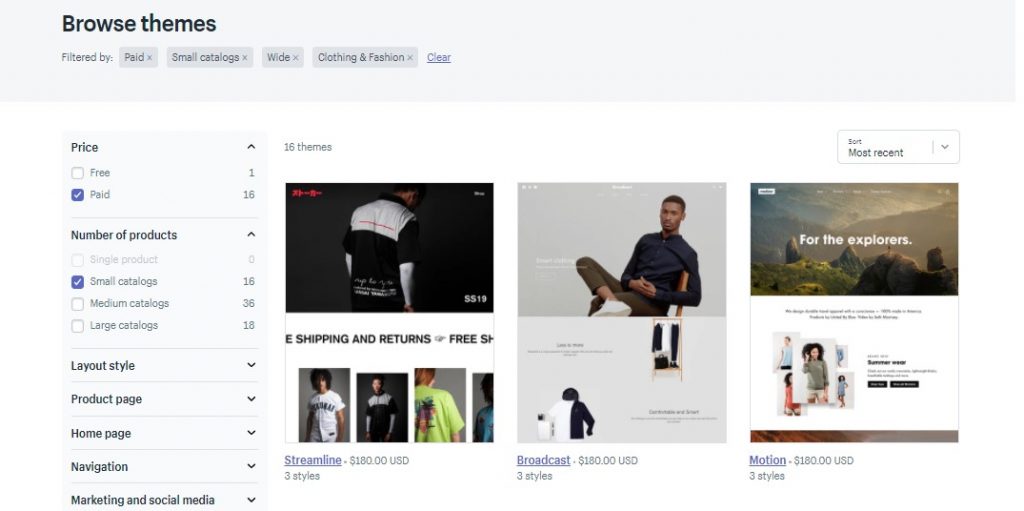 The number of categories you have is also an important factor for theme selection. If you need a theme that displays many categories and an advance search option will depend on it. Shopify theme store allows you to search themes based on specific industries or the number of products. Also, you can get a feel of how they are going to look from their live store examples.
Step 3: Narrowing Down Themes Based on the Design
Next, you need to narrow down the themes based on design, look and feel. What you will need to check prior to settling on your last theme is the aesthetics. You require to consider factors such as is the theme satisfying to the eye, does it coordinate with the theme of your brands, does it draw in more consumers, will your logo fit in the space given, is the landing page perfect and simple to explore, do the colours coordinate with your brand and products.
You need to understand the features the theme offers beyond how it looks. It is essential to test the cart pages on both desktop and mobile devices and check whether the design matches your business requirements. Here are some of the design elements to check on the cart page:
"Add to cart" working behavior
Handling of multiple items on the cart page
Editing option for the visitors on the cart page
Appearance and prioritization of payment/checkout buttons on the cart page
Design of thumbnail images of products, coupon code options, and shipping information
If you got a theme and it has most of the features but does not have the cart page functionalities you need then you can fix it by customizing the theme with the help of Shopify theme experts like us.
Step 4: Check the Reputation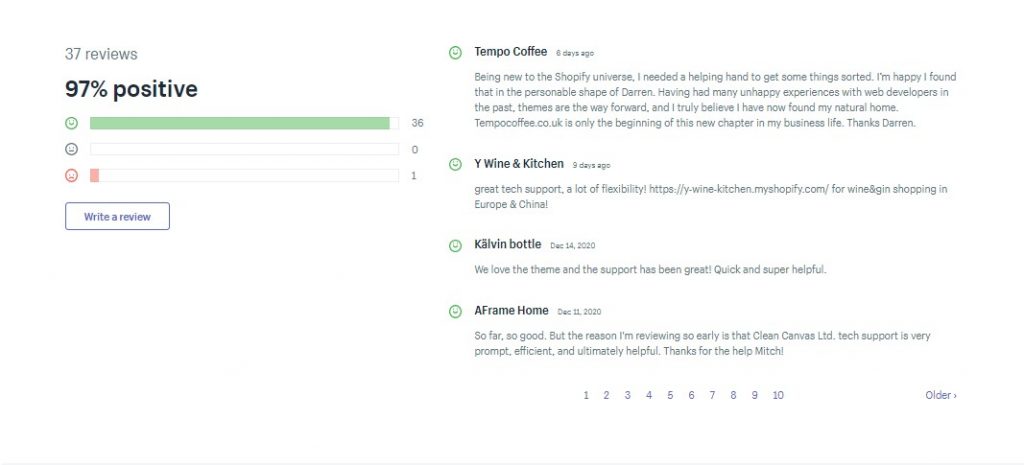 Now say you have a theme that complies with all your requirements, it's time to check about their documentation, reviews and support offered. You will have access to the Shopify support team with all the free Shopify themes. In the case of 3rd party themes, you need to check what support they offer and ensure that you can easily access them for any help.
By clicking the 'This theme is designed and supported by x' link you can access the 3rd party documentation, support details and terms.
Conclusion
Your online store's functionality, aesthetics, brand identity, user-friendliness, site performance will depend on the theme you select for it. Firstly, while selecting a theme you need to consider the industry your product belongs to, the number of products and features you require. Next, narrow it based on your budget. Further, narrow down your option considering the visual appeal and functionalities. Lastly, make the right choice based on its customer reviews and support offered and now you have the best Shopify store that has the perfect conversions.
Do you need any more assistance with choosing the right theme and theme customizations??? We, the Shopify experts who offer the best Shopify development services, Dubai are here to help you. Give a call or WhatsApp: +971 55 494 3599 / +971 50 7080 116.
Please follow and like us:
Summary
Article Name
Steps to Choose the Best Shopify Theme for Your Online Shop
Description
Shopify offers 100+ free and premium themes and also Shopify themes created by 3rd parties, for your e-commerce website. So selecting a perfect Shopify theme can be an overwhelming task. You need to consider so many factors such as the user experience, nature of the product you are selling, how many types of products are you selling, brand, budget etc. Here are the steps for you to select the best Shopify theme.
Author
Publisher Name
M A Q Computer Services LLC
Publisher Logo