Managing an e-commerce store is not an easy task, because there are many things to oversee such as speed optimization, inventory management, secure checkout, shipments, etc. Shopify is one of the powerful e-commerce platforms that will help build and run an online store easily. It has a vast app store that has all the necessary Shopify apps developed by both Shopify and third-party companies.
There are 4000+ Shopify apps available in the Shopify app store. They help to improve marketing strategies, add product reviews, publish your products in social media channels such as Facebook and Instagram, in inventory management, secure checkout, shipping methods, SEO, dropshipping, etc.
Industries of all sizes can find what they require from the Shopify app store. But it can be an overwhelming task with so many to choose from. Being the Shopify experts, Dubai we have put together a list of top Shopify apps that you can add to your e-commerce store.
For the branding and marketing of an online store, reviews of the product from customers is an important factor. It also helps build trust among your customers and sets you apart from others. Shopify Product Reviews is one of the best Shopify apps that permit you to add the feature of customer review to your products. It offers a way for the customers to get in touch with you and engage with others and thereby boosting sales.
Features
Flexible, theme-friendly design that makes the reviews automatically match the look and feel of your online store
Easy customization methods that allow editing layouts, colors and text without making changes in coding
Easy and quick management of publishing, hiding and filtering of reviews
Supports CSV import and export through which reviews as a spreadsheet can be imported and exported
Allows you to add SEO-friendly reviews scores to Google search results
Increases the sale of the products reviewed
Pricing
Product Reviews is a free Shopify app.
One of the time-consuming tasks in any business is paper-work. Order Printer app allows you to create custom templates and print all the necessary documents such as packing slips, invoices, labels, or receipts for the orders. One thing to remind you is that you will require knowledge of HTML and Liquid to make customization to templates. Minor customizations can be done with the help of Shopify theme support. For major customizations, you will need the assistance of 3rd party Shopify developer.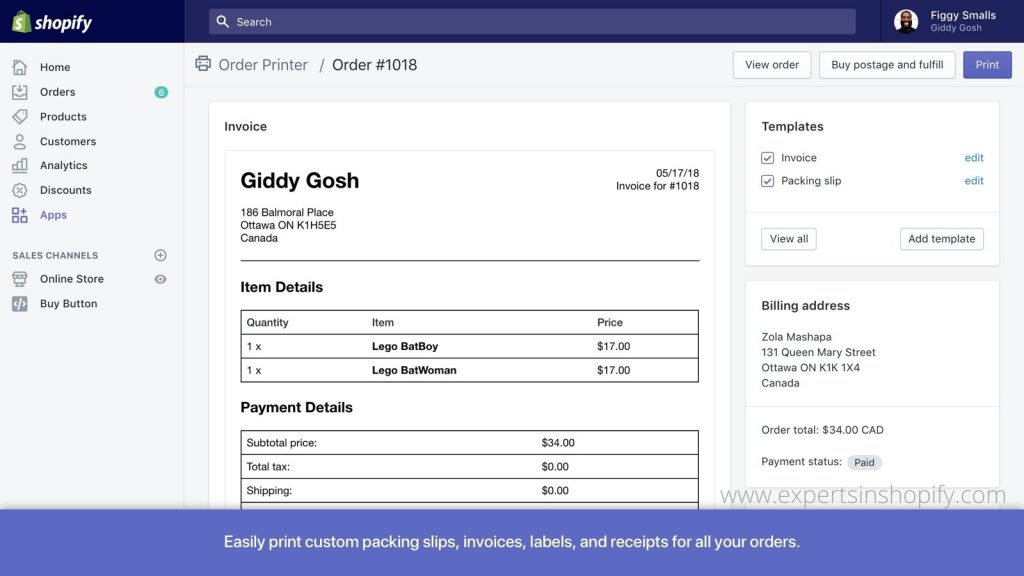 Features
Allows printing custom packing slips and shipping labels for all your orders
Able to showcase your brand in a professional and attractive way by making customizations in HTML and Liquid
Preview and print all the necessary documents in bulk or one at a time according to your requirements
Works with Shopify POS
Pricing
Order Printer is another free Shopify app.
SEO improves your online content so that your website will be displayed at the top of search engine result pages. It helps to bring more traffic to your website and thereby increase sales and maximize the ROI.
In most simpler terms, SEO has two important components: On-Page (Technical) SEO and Off-Page SEO (Reputable link building methods). On-Page SEO helps search engines such as Google to analyze your website and its content so that the search engines can understand the intent of the user and find out it is related to your site. Most companies hire SEO experts to do all the SEO related tasks so that they can stay ahead of their competitors.
SEO Optimizer app will help you optimize all On-Page SEO elements such as meta tags, alt text, sitemaps, JSON-LD, etc. It helps to ensure you are meeting Google's best On-Page SEO practices with constant checking and automatic optimization. But it does not help you build any backlinks which is a manual process.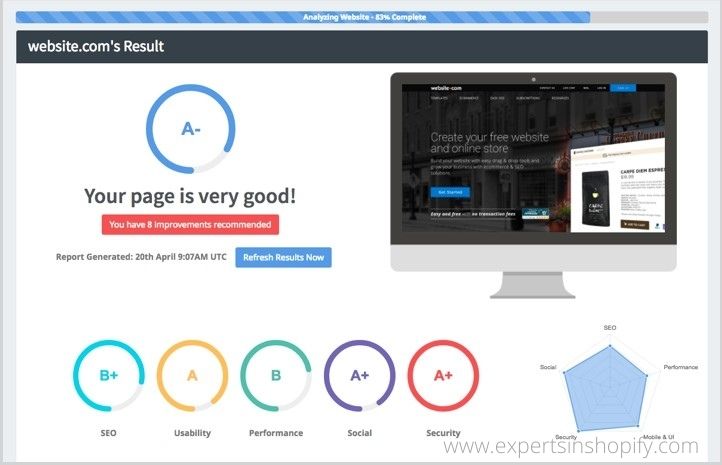 Features
Ensure your site's meta title and meta description are optimized for better ranking.
Optimize image alt tags and improves traffic through image search
Reduce page load time by considerably reducing the size of images on your site with a compression engine
Ensure that your site is properly crawled and indexed by Google by automatically building, maintaining and submitting your online store's sitemap to Google
Make sure the URLs are all better structured with a URL keyword optimization tool
Automatically add JSON-LD to your website
Autopilot fix feature to fix SEO problems based on customizable rules
Management of Google snippets
Monitoring and automatic redirection of broken links (404 not found)
Weekly SEO health reports
24×7 customer support
Easy installation process
Pricing
Free Plan: Offers all image optimization features such as alt-text optimization, Unlimited image sync and Checking up of all the images once a week.
Pro Plan– $29.88/month: In this, you can have all features of the SEO Optimizer app mentioned and bring highly qualified traffic to your website.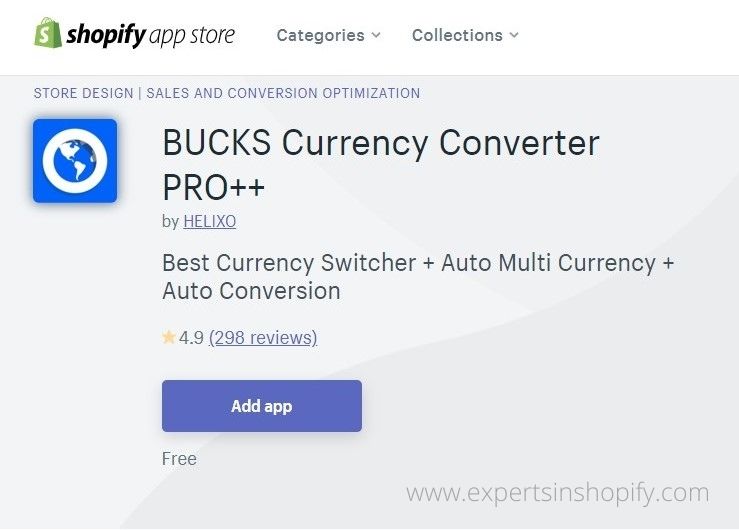 If you are an online store owner who would like to expand your business to an international level, then selling in multiple currencies can do wonders to increase the sales and revenue to a new level.
BUCKS Currency Converter PRO++ is a 3rd party developed Shopify app that is the best currency converter app that supports 160+ currencies in the world and converts the currencies based on the geolocation of the customer. It displays the converted prices without showing the original price. Adding this currency converter app to your online store can encourage your international customer sales.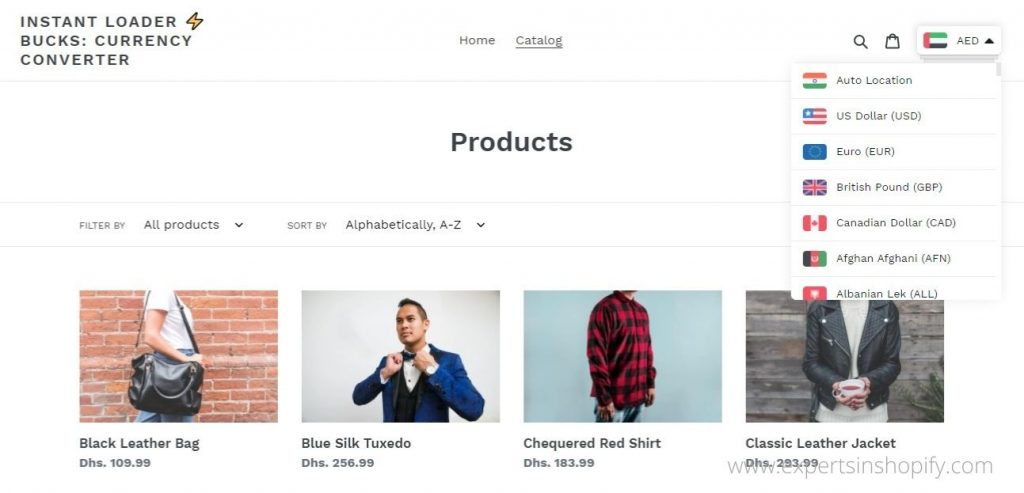 Features
Have "Instant Loader" technology that converts the currencies at a lightning-fast speed
Automatic and fast currency detection and switching based on the customer's geolocation
No flickering of the original price but can see it by hovering the mouse on the converted price
Personalized currency rounding methods and accurate exchange rates
Smart currency dropdown with 160+ supported currencies and would be able to style and position the dropdown as per requirements
Best UI design that works with any theme
Supports AJAX carts, multiple variants and offers custom CSS support
Provides manual conversion API support for 3rd party app developers
Easy installation and uninstallation process without needing any prior coding knowledge
Able to integrate with Upsell Funnel Engine
Excellent customer support
Pricing
BUCKS Currency Converter PRO++ Shopify app is available for free.
Social media platforms such as Instagram, Facebook, Twitter, etc. help you a lot to connect with your customers in a more direct way. Yet, customers and clients probably won't be all around familiar with your social presence. Hence, experts of social media management in UAE suggests that you can embed your Instagram feeds to your website to gain more online following.
Instafeed ‑ Instagram Feed is one of the top Shopify apps that help you convert your store visitors to customers by showing your Instagram feed on the website. It helps to create proof for your social presence and expand your online presence by getting more followers and likes.
Instafeed helps to create a minimal and elegant feed by only adding content that drives more sales and avoids those that distract the clients. Adding Instagram feeds to your website will freshen up its content which is great for gaining more customers.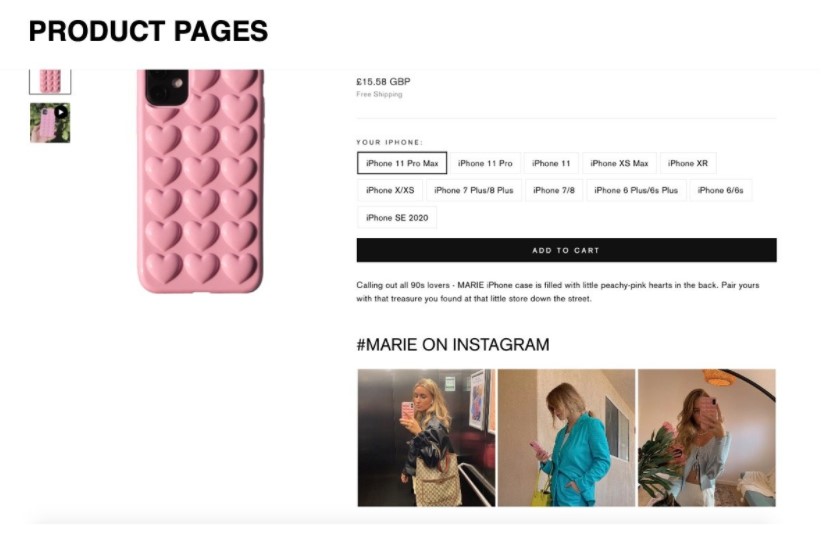 Features
Supports both image and video
Compatible with all devices
Can display the feed as you wish without affecting the theme of your online store
Easily customizable and you can choose the feed title, number of rows and columns and space between the posts
The feeds displayed will be responsive automatically adjusting to desktop and mobile screens
Can directly link your posts to Instagram or show it in a pop-up window on your store
Shows the number of likes on your post and can filter your posts by hashtags
Allows posting of multiple Instagram feeds
Features to tag products and create shoppable Instagram feeds
Does not affect the page speed as all the images are lazy-loaded and no addition of extra code to your store
The easy installation process with no need for coding knowledge
Able to display your feeds with a simple intuitive editor
Great customer support
Pricing
Free: This plan allows you to have access features such as video support, all the customization options except adding a custom number of rows and columns on mobile and viewing of posts with a link to Instagram or in a pop-up.
Pro– $3.99/ month: In this plan, you will have access to all features in the free plan. Additionally, you will also be able to show the number of likes on the post, tag products, add multiple Instagram feeds up to 3 and allows you to customize the number of rows and columns on mobile.
Plus- $19.99/ month: This plan offers you all the features of the app including unlimited Instagram feeds and filtering of posts based on hashtags.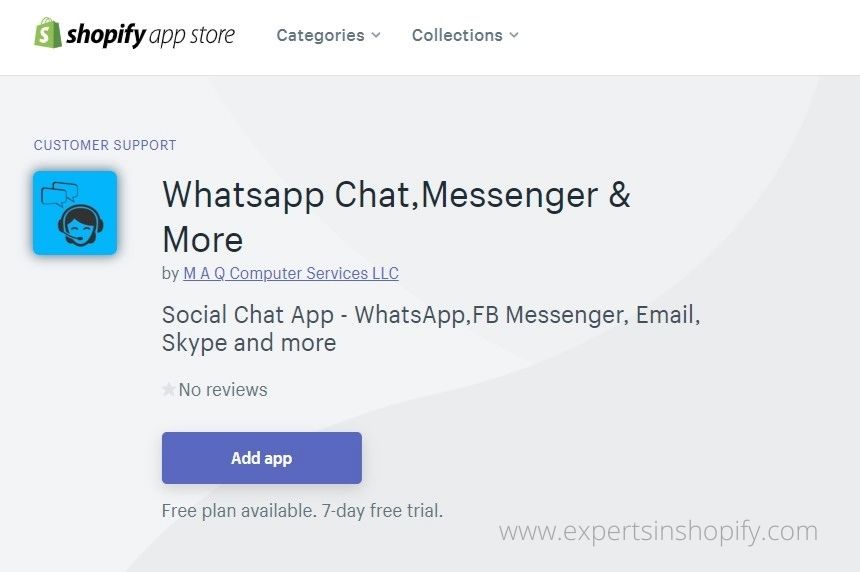 A large portion of the individuals who purchase online want to clear any questions with respect to the item they are purchasing prior to making the buy. They want to find solutions from the owners immediately without leaving the online store. A chat support system will enable you to respond to these inquiries. It also guarantees that the client will settle on a positive purchasing choice, decreases the abandonment of the shopping cart and also boost sales.
WhatsApp Chat, Messenger & More is an all in one social chat app developed by MAQ Computer Services LLC that will allows you to integrate all major social media platforms such as WhatsApp, Email, Call, Facebook Messenger, Skype, Line, We Chat, Snap Chat, Telegram and Live Chat to your e-commerce store. This Shopify app helps you to interact with the customers without leaving the website on a social media platform of their option.
After adding the app to your online store, you can start by selecting the social media platforms of your choice. Then enter the account information, change the icon colors to match the theme of your store and fix the position of the chat button.
Features
Support up to 10 social media chat apps
Able to set up the app show only on mobile/desktop devices or both
Able to receive WhatsApp messages with the URL of the page customer is browsing and in the case of product pages, product URL
Does not affect the theme of your store with code changes or code injection
Able to place the chat widget anywhere you want
Can hide the widget on both desktop and mobile devices.
Pricing
You can start using this app with a 7-day free trial period.
Free Plan: With this, you will able to have features such as unlimited WhatsApp chat, WhatsApp chat with the product link and can show and hide the widget on both desktop and mobile.
Paid Plan- $2.99/month or $2.50/month billed at $29.99 once per year: With the paid plan you can access all the key features of the app mentioned.
To know more details, go to https://expertsinshopify.com/blog/shopify-apps/whatsapp-chat-app-for-shopify.html.
Custom Shopify App Development
There so many Shopify apps available on the app store that can enhance the functionalities of your e-commerce website according to your needs. But what if you have a very specific requirement? Custom Shopify apps are built exclusively for your online store. They are developed according to your needs to add extra features to your store that are not available on Shopify. Custom Shopify app development has many advantages such as:
Can do customizations that were not possible due to code related limitations
Able to add ERP or CRM features to your store
Can bring better user experience with the improved customization capabilities
Able to improve marketing strategies with digital marketing enabled apps
Being the experts in Shopify app development we offer quality services to build apps that will help to add advanced features and custom integrations to your online store. We provide unique solutions based on the vendor's requirements that will increase sales and boost the brand awareness of the store.
Shopify is the best e-commerce platform for starting an online business. One of the reasons for it is that Shopify offers you a vast collection of apps that can help in enhancing your store's functionality. But if you have a unique Shopify Custom App or Shopify Plugin requirement, we are here to help you build an app as per your requirements.
To know more details, visit: https://expertsinshopify.com/ or call or WhatsApp us at : +971 50 708 0116/ +971 55 494 3599.
Please follow and like us:
Summary
Article Name
Must Have Shopify Apps in UAE
Description
There are 4000+ of Shopify apps available whether you want to improve marketing strategies, add product reviews, publish your products in social media channels such as Facebook and Instagram, or upgrade your store's functionality in inventory management, secure checkout, shipping methods, SEO, dropshipping, etc. Here is the list of top Shopify apps that you can add to your e-commerce store compiled by the Shopify experts in Dubai.
Author
Publisher Name
M A Q Computer Services LLC
Publisher Logo